Sock Hop 50's theme party at the Museum of Flight Seattle
We LOVE parties, but a Sock Hop Party theme can take you back to the good ol days. Our friends at Leverage Planners held a client appreciation party for Valentine's day with a Sock Hop Party theme.
Around 150 Guests dressed up in sock hop 50's theme party gear. Guests entered the Museum of Flight to the sounds of 50's music from Kile Jackson's "The Edsels" band.
McCormick & Schmick's catered mini slider hamburgers, coleslaw, chips and other sock hop themed food. Bubble gum and popcorn was on each table. Black, Red and Pink were the colors of choice.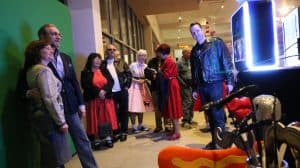 Sock hop 50's theme party Green Screen Photo Booth took guests back to the 50's with cadillacs, diners and rock and roll signs. Most guests were already in costume but the photo booth prop table added cat eye glasses and other fun props to pose with. People lined up the entire time to pose and get a print to take home.
SeattleDJ.com's Mari Odette-Kanotz was MC and hosted game
s like the Hula Hoop contest. Bubble Blowing at it's finest – the winner blew at least a three inch bubble. Limbo was a surprise to see "how low they could go". We finished out with a costume contest to choose the "best of". Categories were Male, Female and couples. Creativity was alive at the party that night.
Edsels band had sock hop 50's theme party partiers swinging on the dance floor to the bitter end. Can you imagine what it must've been like at a dance like this back in the day? Maybe you were there! Comment and let us know your experience.
Leverage Planners raffled off some really cool items. Guests had access to the Museum of Flight exhibits during the event. Not only were there photo booth props to play with, the museum of flight is full of aircraft props!
MokPix Videographer was on the ball getting great footage. The video above is the edited highlights – enjoy!