Photo Booth Rental Print Templates
There are limitless photo booth rental possibilities for your custom Print layouts.
Need some inspiration and ideas? Take a look at some of our available templates. Anything can be customized with your font, logo, colors, etc. Let us know if you would like us to make a custom graphic for you!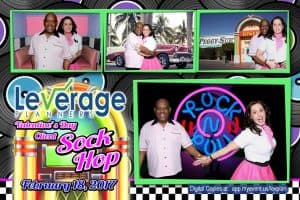 Currently we recommend Square, Portrait or Landscape designs for the largest images.
Square is best for social media sharing and Portrait or Landscape works best for printing.
You can click an image of one you like and from there enter your customizations OR once you book with us you'll be able to login to your Portal and choose your design and customizations right from your portal- SIMPLE!
---
Want to print strips?
Remember, these will be cut down the middle by the printer so guests will get 2 strips at the event. For digitals, they will not be singles but look like they do below when shared.